In the post diquat world, many potato growers are still seeking the ultimate solution in haulm destruction for their crop; both from a cost and efficacy point of view.
Many growers now use haulm topping as their preferred method to remove the bulk of the haulm followed with an application of a PPO inhibitor such as Spotlight Plus (Carfentrazone) and Gozai (Pyraflufen-ethyl) to stop passive bulking and to control tuber size, and achieve skin set. This has proven to be an effective method but its effectiveness relies on sometimes repeated applications of these expensive actives to achieve the desired results.
However in a world where the E.L.M. scheme looms large on the horizon with its focus on sustainability and the probable further reduction in reliance on chemical inputs across the sector there is a need to find another way. The Organic sector would also benefit from this simple and effective approach.
Haulm pulling is a potential alternative to chemical application. Previously haulm pulling has seen crop losses as a result of damage and greening which occurs when the stolon and tuber separation is not complete. However, a Dutch brand, Vegniek has worked hard to refine the mechanical pulling process and their innovation can be seen in their DiscMaster series of precision haulm pullers.
Their focus has been on reducing crop damage and ensuring that rows are effectively closed following the pass. Via the spring-loaded haulm guides the haulm is brought to the intake drums along with a small amount of ground that is directed to the pull discs. Next to the pull discs are stainless steel gliders that prevent potatoes from being pulled out of the row. As soon as the flow of haulm-with-ground leaves the pull discs it is guided to the diabolo rollers which then gently press the loose soil. The result is well-covered potatoes and closed rows which are resistant against weather influences.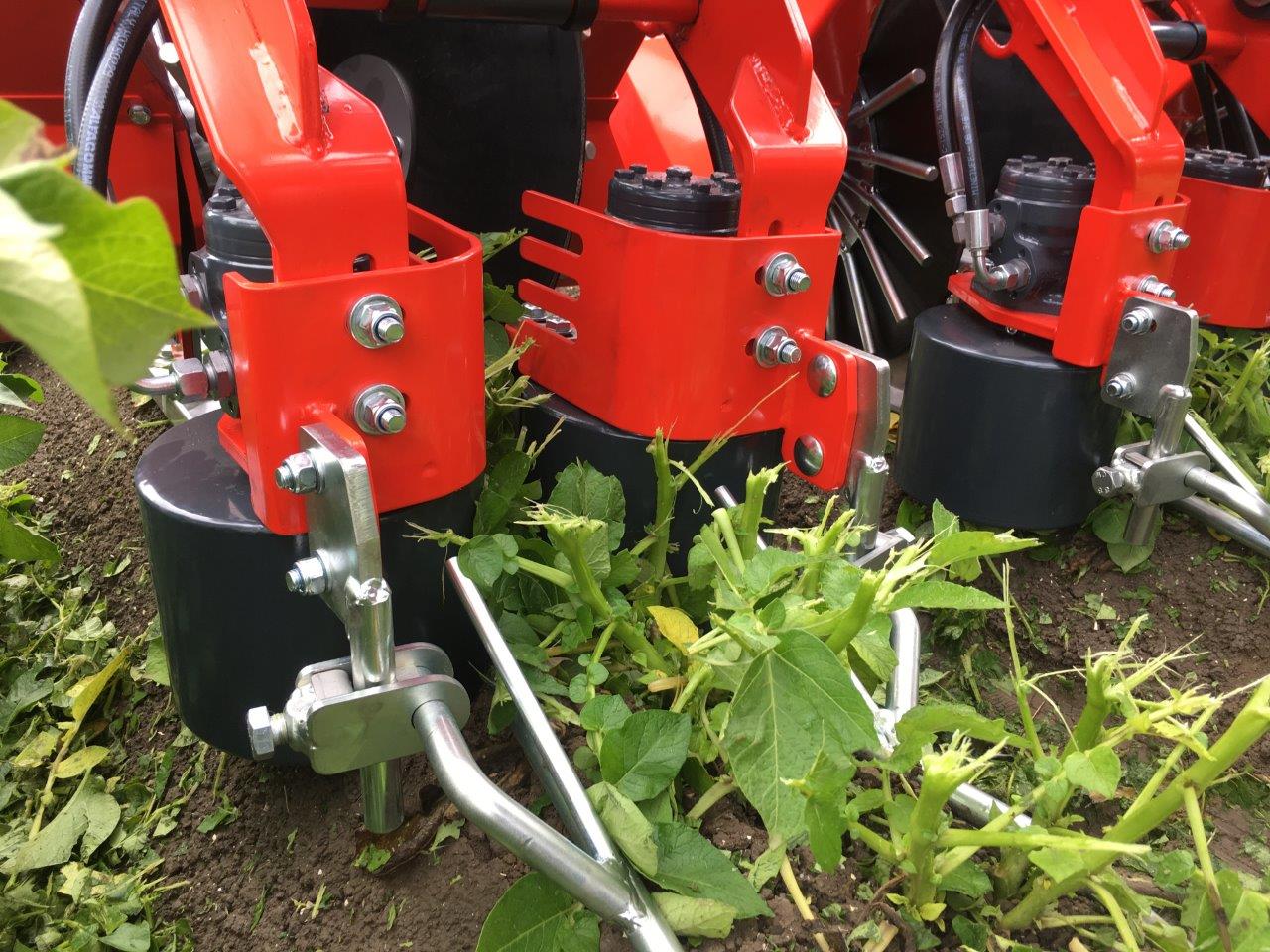 As well as being a strong, well- built machine the DiscMaster is also light in weight, easy to use and easy and cost effective to maintain. The machine is carried on the rear of the tractor, and all elements are independently suspended for perfect following of undulations. The haulm guides are following the rows and can be adjusted in all directions by means of one bolt. The speed of the pull discs is variable, adjustable from the cab and the working depth is adjustable via a spindle on the back of the machine.
By pulling potato haulm, spraying or burning the crop can be avoided at least once or maybe twice. In many cases, spraying is no longer necessary at all. With haulm pulling the moment of growth stop is immediate with efficient stolon separation and therefore passive bulking is prevented. The hardening process takes much less time than relying on the time lag between herbicide application and it starting to be effective. The result is much less time between haulm pulling and harvest, with skin set achieved in as little as 10 days. This reduction in time between hardening and harvest also reduces the likelihood of rhizoctonia infection taking hold, particularly important for seed producers.
Because the DiscMaster requires little maintenance, it's already cheaper than 'traditional' haulm destruction methods on areas of 40 hectares upwards.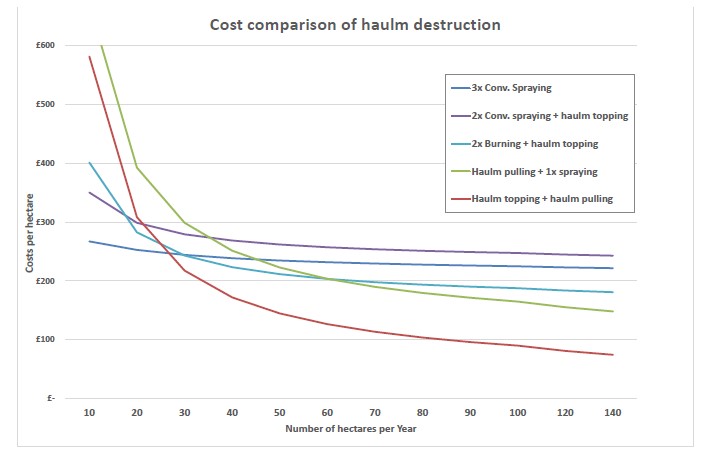 Note: Each method was trialled over 60 hectares of potoates in the Netherlands.
Application 1 of spray included: Quickdown and OlieH.
Application 2 of spray included: Quickdown and OlieH
Application 3 of spray included: Spotlight Plus and Beloukha
Capacity was based on using 4 row machines on each trial area. Topping and haulm pulling was completed in a one pass operation. Costs factored in include: Tractor running costs, sprayer running and maintenance costs, man hours and chemical input costs where applicable.
There are 4 models to choose from; the DiscMaster 150, a 2 row model and the DiscMaster 300, a 4 row model, the DiscMaster 450 a 6 row rigid model, and the DiscMaster 450F 6 row folding machine. Options include load sensing hydraulics, and hydraulic lifting of the individual pulling elements.
The Vegniek DiscMaster is only available in the UK and Ireland via Standen Imports, our imported machinery division. For more information please contact sales@standen.co.uk.